Yahootin Annie

Yahootin Annie at 8 months of age. More photos at the bottom of this page.
Sire: Blue Yahooty Hancock, grullo
Dam: Baileys Badland Buck, palomino dun from 2 grullo parents
Grulla filly. DOB: 4-4-2003
SOLD
At birth, this filly had the really dark blue/gray eyes that are often characteristic of true silver grullos (and grullos that carry the creme gene). They are now brown, which is normal for creme-carrying grullos. The advantage of a creme-carrying grullos is if you breed them. They will throw more color than regular grullos.
She causes us a problem, though. Her dam has now had 3 grulla fillies, and we can't keep all three. This filly has the biggest butt of the three (when comparing foal photos). These fillies are deeply bred for color and cow sense. We'd LOVE to see someone invest 3 or 4 years roping, reining, or cutting off of one of them before breeding. They have the breeding, build, and personalities to do it!
| | |
| --- | --- |
| | A nice, long-hipped filly with no white other than a few hairs on her forehead |
| | Her dam is a thick mare whose parents were both grullo |
| | Sire is grullo who produces about 90% colored foals |
| | Sire goes back to these horses multiple times: King P-234, Peter McCue, Leo, Joe Reed, Blackburn, Zantanon, plus goes back to Blue Valentine, Joe Hancock, Music Mount, Oklahoma Star, Plaudit, and Bartender |
| | 50% chance she's homozygous for dun factor gene (would produce 100% duns and grullas). Click here to see the statistics on this. |
| | Will produce 50 to 100% grullas, red duns, and duns, buckskins, and palominos regardless of color of stallion bred to |
| | Foundation bred. She'll be 92% NFQHA, and should be higher with FQHR. |
| | Eleven of the first fourteen horses on her pedigree are colored. |
| | Suitable for many specialties including cutting, reining, calf or team roping, and breeding! |
| | An excellent candidate for foundation association showing, ABRA, IBHA, etc.! |
| | See www.grullablue.com/sale.htm for pricing information on this filly. |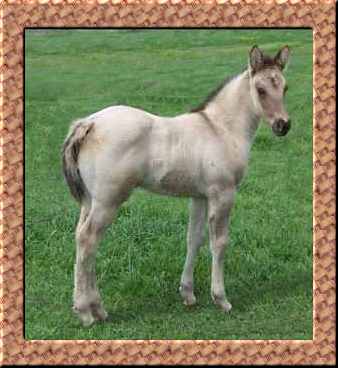 Only 4 weeks old...nice foundation butt!
Click the photos below to view them at full size.
Click the thumbnails above to view the images full sized.