Contact Us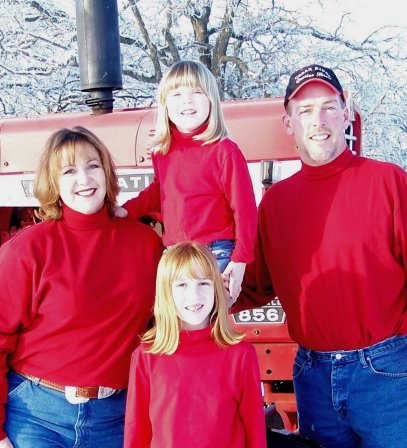 US Shipping Companies International Shippers Directions Lodging Phone/Address E-mail Us
Cedar Ridge Quarter Horses
Toni Perdew
3005 Lexington Ct.
Bedford, IA 50833
info@grullablue.com
Alternate e-mail: tonip@frontiernet.net
Cell: 712-370-0851
(before 9 pm CST)
Please, NO TELEMARKETER calls!
For Horse/Foal Color Assistance
Click Here
Cedar Ridge Quarter Horses is conveniently located approximately 2 hours driving time from Kansas City, MO; Omaha, NE, and Des Moines, IA. We are about 1 hour's drive from I-29 and I-35, and a little over an hour drive from I-80.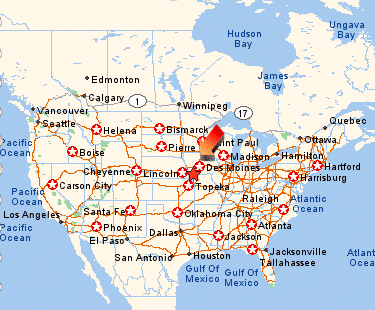 Since we are in the middle of the nation's heartland, national horse shipping companies drive near us frequently, and your new horse could easily be picked up at our house and delivered to your front door!
How do you get here?
Map of location of Bedford, Iowa You can zoom in/out or ask for driving instructions. If you e-mail us, we will send you a web page address with instructions for getting directly to our home.
Lodging
If you come over to visit, look around, or pick up a Cedar Ridge horse, you may need a place to stay. Since we are not close to a major city, the choices are fairly limited. But there are several nice places to stay that are located within 1/2 hour of our farm.
Bedford, Iowa locations (within minutes of us)
Skylark Motel
Newly Remodeled in 2012
712-523-1015
https://www.facebook.com/SkylarkMotel
108 Pearl St, Bedford, IA
Web Site Coming Soon!
Soulsby Farms A rural home 10 miles east of Bedford. The cottage is fully furnished, with three bedrooms, three bathrooms, kitchen, deck with a beautiful view, a gas grill, fenced yard and one enclosed kennel, and more.
Maryville, Missouri hotels (south of us about 24 miles)
**
Comfort Inn
(660) 562-2002
Highway 71 S
Maryville, MO Map
Show Me Inn
(660) 582-2186
938 S Main St
Maryville, MO Map
**
Super 8 Motel
(660) 582-8088
Highway 71 S
Maryville, MO Map
NEW!
Holiday Inn Express
Maryville, MO
Phone number coming...
***
Americas Best
(660) 562-3111
1700 E 1st St
Maryville, MO
Clarinda, Iowa locations (about 20 miles west of us):
Mt Ayr, Iowa (about 28 miles east of us)
Address/Phone
Cedar Ridge Quarter Horses
Toni Perdew
3005 Lexington Ct.
Bedford, IA 50833
712-370-0851
(before 9 pm CST, please).
info@grullablue.com