HL Baby Doll Badger
1999 Grullo Mare
SOLD! Congratulations to R&B Quarter Horses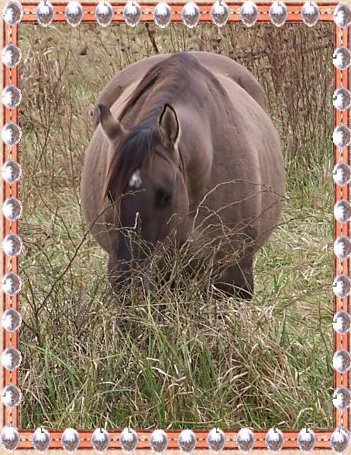 October, 2005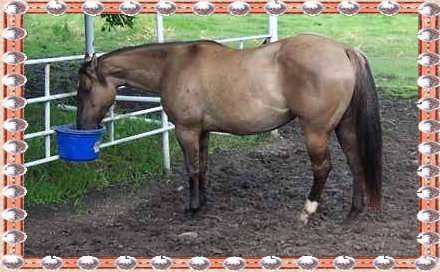 Husker has a long hip and low-set hocks. No wonder she is so athletic!
(standing on a downhill slope in photo)


Three years old, rolling in the snow!
It is very hard to find grullos with overall eye appeal...with proper legs, head, and neck. Husker has it! But it is her "presence" that really makes everyone look twice at this mare. You can't help it...she's big to the eyeballs! Her pictures do not do her justice...she is so much bigger in real life. I believe she is about 15.1 hh, but it's her thickness and bone that make her look even bigger to me.
Husker is also apparently a creme gene carrier, as she threw a silver grullo with the color of eyes that creme carriers have in 2005.
"Husker" Notes:
| | |
| --- | --- |
| | She has 60 to 90 days of riding (I haven't been able to find my info about her from when we bought her, so don't know exactly how many). |
| | Husker has great legs and super bone |
| | She has always been an easy breeder, and does not require any special vet care |
| | She has always conceived on the first try, whether we bred on foal heat or waited a couple months due to not having a stallion ready to breed. |
| | Husker lost a tooth as a filly, but it has never bothered her. We have never floated her teeth, but it's probably a good idea. |
| | Husker is probably about 15.1 hh, but I have never sticked her. |
One step off her papers are Grey Badger II, Native Dancer, Doc Bar, and a couple names I've heard but am not sure why I've heard them. Her great-grandsire, Doc's Tom Thumb, was a full brother to Doc's Prescription (whose get earned 8,438.5 AQHA points--mostly in cutting) and Doc's Lynx. And of course she goes back to Poco Bueno and King, among others, further back.
1999 Grullo Mare
Sire
Gold Doc Doc
Palomino
Sire
Doc Doc
Sire
Doc's Tom Thumb
H-1, P-2
Full brother to Docs Prescription
Sire
Doc Bar
H-36, SI 75
Dam
Jameen Tivio
H-13
Dam
Spare Tire
Sire
Knotty Bar by Doc Bar
H-16, P-3
Dam
Spare Time
Dam
Sissy April
Sire
Thompson's Turp
Sire
Poco Turp by Poco Bueno
Dun, H-27
Dam
Miss Gray Hancock
Dam
Sissy Beaver
Sire
Star's Last
Dam
Sis Craddock
Dam
Miss Badger Dancer
Dun
Sire
Tex Wade
Black, SI 96
Race ROM Sire
Sire
Texas Dancer
1985 stud fee was over $2500!
Stallion Offspring Record: World Champion Offspring, Race, Reserve World Champion offspring, Arena. Superior Performance Offspring, Race & Arena, ROM Performance Offspring, Total Points Earned: 675
Sire
Native Dancer
2x Horse of the Year
Dam
Lullah
Dam
Battle Baby
SI 85
Sire
Battle Ground
Dam
Ima Bar
Dam
Missy Mel
Sire
Badger Mel
Race winner
Sire
Gray Badger II
SI 85 Race ROM
Dam
Y Lass
Dam
Ray's Yellow Cat
Sire
Gray Wasp
Dam
Molly Cotton Tail

Husker's Foals


2003 Grullo colt

2004 Grullo colt

2005 Silver Grulla filly
This page last updated: 02/15/10