Yo Kety Tornado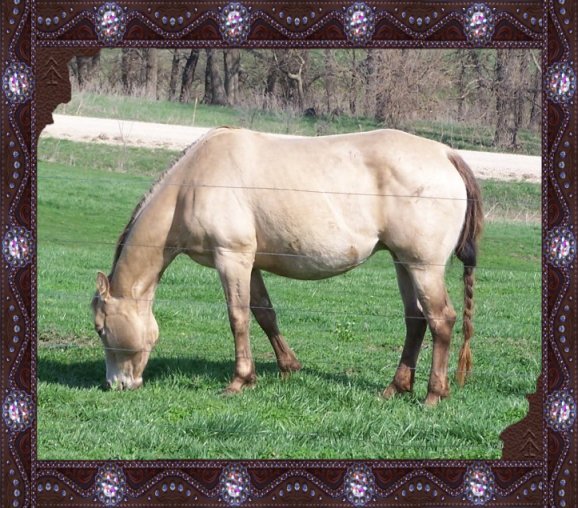 2003 Amber Champagne Quarter Horse
Year of Birth
Suitability
Genetic Information
Riding Experience
Breeding Status
2003
Roping, ranch, reining, cutting, broodmare
Amber champagne.
Negative for 5-Panel/Disorder Combo
Trails, team penning, turnback horse

Click here to see our yearly foal pages.
A new window will open.
2003 Amber Champagne Quarter Horse mare

DNA tested Negative (not a carrier) for genetic disorders: HERDA, PSSM1, GBED, and later finished her 5-panel/combo testing negative also to HYPP and MH. Click here to view her report from Animal Genetics, Inc.

14.3 hh

My first horse was a champagne, and I've wanted to ride another for years since losing him. But, so few are broke to ride, and I've not had time to finish one for myself. I'm so tickled to have found Twister, who is broke to ride and gentle! Look for trail riding pictures to come as we enjoy riding with her.

From her former owner in September of 2008: "TWISTER is a real laid back quiet mare that has been mostly been trail ridden on and just recently started on cattle. Twister has been used as a turn back horse and also done a little bit of team penning. She has the natural ability to excel at what ever your pleasure is. Twister will get right up on a cow and watch it and push one with her chest. Follows great and will watch what way a cow moves. Twister will cross rivers, plastic tarps, bridges. Easy to wash, Clips with no twitch, Easy to catch...first to the gate. Trailers great...ties to anything. Will make a great all around family horse for kids to adults. Has the personality and the will to please. Very easy to get along with. Not hot or hyper...light in the mouth and knows leg pressure. Up to date and has full medical records and farrier. Will guarantee 100% sound in every way.
Easy to catch, easy keeper, no bad vices or habits.. has not offered to kick, rear, bite, buck." She also said that one person can clip Twister's ears, bridle path, etc. The only problem there is that she relaxes so much that her head sometimes drops clear down, and you have to remind her to keep her head up! :-)

September 21, 2008 update at our home: I rode Twister for the first time today, and she is awfully sweet. We rode about 5 miles on trails in SW Iowa. She walks out at a good clip, and the only time she scooted was when the horse with me tripped over a LONG tree branch on the ground, which made it rustle behind her off the side of the trail. This mare can spin on a dime! But, she didn't take off...just spun to see what happened and stopped when I asked...and we continued on without further event. She willingly crossed two bridges along the way, too.

Yo Kety Tornado
AQHA 4385883
2003 amber champagne (registered as a buckskin) mare

SIRE side of pedigree
Peppy San Badger 1974
1089924 sorrel Hall of Fame, AQHA H- 0.0 P- 41.0 NCHA earnings $172,711. 1st place 1981 NCHA finals. 1st place NCHA Cutting Derby. 1st place NCHA Cutting Horse Futurity. Producer of 6131 AQHA pts, 155 ROMs, 8 World Championships, 13 Reserve WC's.
Mr San Peppy 1968
0548845 sorrel
H- 0.0 P- 161.0 Hall of Fame, NCHA World Champion, '76 O AQHA, '74 & '76 O NCHA NCHA Finals, '72 1st O Non-Pro; '73 3rd O Finals; '76 2nd O Finals NCHA Derby, '72 1st O Derby Top Ten World Show, '73 5th NCHA O; '77 4th NCHA O Superior Performance, '75 O CUT AQHA High Point Performance Horse, '76 O CUT; '76 2nd O CUT ROM Performance NCHA COA Bronze, Silver, Gold Hall of Fame Offspring, Peppy San Badger (NCHA), Tenino San (NCHA) World Champion Offspring
Cougarand 1986
2643282 gold champagne/palomino
NCHA Certificate of Ability. 1996 NCHA Area 9 $3,000 Novice Horse Champion. 1996 NTCHA $3,000 Novice Horse Champion. 1996 NTCHA High-Point Horse
Sugar Badger 1959
0183512 sorrel
Superior Halter Offspring, Superior Performance Offspring, AQHA Champion Offspring, NCHA Money-earners
Doc's Yellow Rose 1972
0887378 palomino/gold champagne NCHA money earner, NCHA COA. Dam of NCHA $ earners
Doc Bar 1956
0076136 chestnut
75 4 0 0 1 $ 95 H- 36.0 P- 0.0 Hall of Fame, AQHA 1993 Inductee AQHA 1993 inductee, Total Points Earned: 36; Halter Points: 36; SI: 75; Race: $95; Stallion Offspring Record, World Champion Offspring, WP, CUT, WCH, HUS, Reserve World Champion Offspring, CUT, Top Ten World Show Offspring, Superior Halter Offspring, AQHA High Point Halter Offspring, CUT, Superior Performance Offspring, AQHA Champion Offspring, ROM Halter Offspring. ROM Performance Offspring, Performance Point Earners, Hall of Fame Offspring, NCHA & AQHA Offspring earned $1,178,484. in cutting.
Yellow Tornado 1999
3831292 buckskin/amber champagne
Sandy Rock 1959
0115180 dun/amber champagne
Dorado Star Chex 1973
0975290 sorrel
Offspring record: performance points, NCHA - $18,710, NRHA - $5,213
King Fritz 1956
0058532 bay
H- 14.0 P- 23.5 Hall of Fame, AQHA Champion, ROM Performance, NCHA money-earner, Stallion Offspring Record for King Fritz: World Champion Offspring, Reserve World Champion Offspring, Superior Halter Offspring, Superior Performance Offspring, AQHA Champion Offspring, ROM Performance Offspring, NRHA Money-earners, NCHA Money-earners
Miss Pistol Chex 1980
1666013 bay
Twinkle Miss 1952
0046213 sorrel
H- 4.0 P- 0.0
Dam of 6 ROMs (source: allbreedpedigree.com)
Tondeuse 1975
1187450 bay
Lucky Pierre 1964
0497158 chestnut
95 16 3 1 2 $ 3,201 H- 53.0 P- 8.0
Producer of halter and performance point earners.
Babe's Clipper 1962
0234859 bay

DAM side of pedigree
Watch Joe Jack 1970
0729175 chestnut
H- 225.0 P- 201.0
Top Ten World Show, Superior Halter, Superior Performance, AQHA High Point Performance Horse, AQHA Champion, ROM Performance, Stallion Offspring Record: , World Champion Offspring, Reserve World Champion Offspring, Superior Halter Offspring, Superior Performance Offspring, AQHA Champion Offspring, ROM Halter Offspring, ROM Performance Offspring, Race Money-earners
Two Eyed Jack 1961
0178246 sorrel H- 217.0 P- 65.5
Hall of Fame The all time leading sire of AQHA Champions, having sired 119 Champions. He also sired sixteen AQHA World Show Champions, as well as 242 Performance Register of Merit earners.[7] He also sired three AQHA Supreme Champions.[5] His daughter Vickie Lee Pine was the 1978 AQHA World Show Superhorse.
Snips Watch 1977
1322234 sorrel
H- 0.0 P- 15.0
Performance Point Earner
Watch Jo Moore 1961
0175506 dun
H- 27.0 P- 0.0
Halter Point Earner. Mare Offspring Record: Top Ten World Show Offspring, Superior Halter Offspring, Superior Performance Offspring, AQHA High Point Performance Offspring, AQHA Champion Offspring, ROM Performance Offspring
Snippy Pat Star 1959
0121757 sorrel
AQHA Champion Offspring, ROM Performance Offspring, Halter Point Earners, Performance Point Earners
Pat Star Jr 1953
0039072 bay
Sire of 348 Reg. foals earning: 22 AQHA Chmps/2 Yth AQHA Chmps, 1805 HLT Pts, 11 SUP HLT, 1728 Perf. Pts, 42 ROM's, 3 SUP Perf., 1 Race ROM, 2 Race strs. earning: $2225. A Leading Sire/Maternal Grandsire AQHA Champions-Arena ROM. NCHA COAs-NCHA Money-earners.
Lees Aborigine 1991
3069718 sorrel
Alice Murphy 1944
0012706 sorrel
Dan Bar Lea 1960
0124990 sorrel
95 9 3 0 2 $ 1,091
Stallion Offspring Record: Superior Performance Offspring, ROM Performance Offspring, Halter Point Earners, Outstanding Offspring: Star's Storm Bar, 2 HLT & 612 Perf Pts; Y Superior WP; WHO; O Superior WP
Band Bar 1956
0098359 sorrel by Sugar Bars
Taffy Bar Lea 1975
1158208 red dun
Miss Cindy Lea 1955
0066943 sorrel
H- 0.0 P- 3.5
Buckerett 1955
0159046 dun
Jack R 1945
0018641 chestnut
85 10 1 1 1 $ 268 ROM Performance, '47 RC. SI: 85; Race: $268; Stallion Offspring Record: ROM Performance Offspring, Race ROM Offspring, Race Money-earners, Halter Point Earners, Performance Point Earners
Little Susie Too
A0025500 n/a
Foals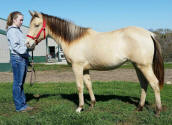 2010 Dun Filly, 2011 Buckskin Filly, 2013 Dunskin Colt, 2014 Dunskin Colt, 2015 Amber Dun Champagne Filly
This page last updated 01/19/17