CR Champagne San Bar
2006 Amber Cream Champagne Quarter Horse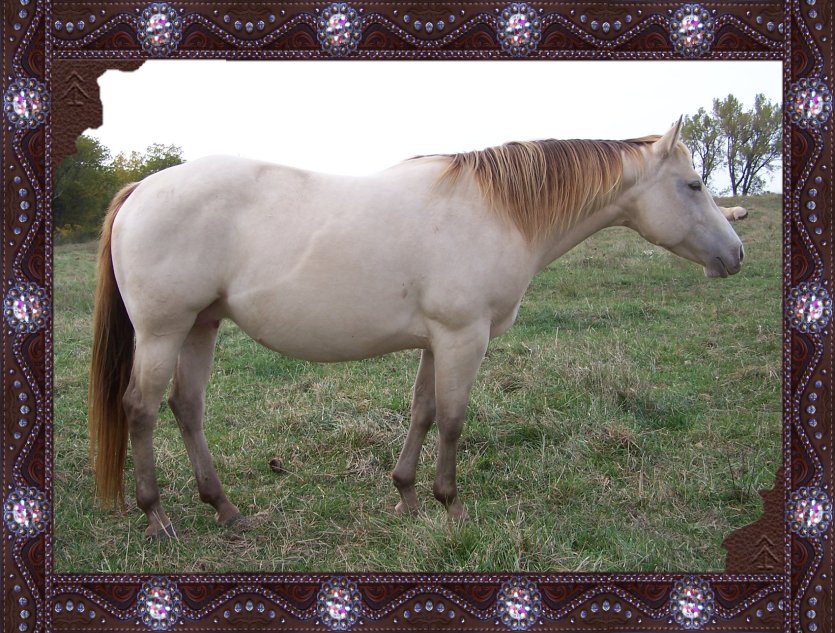 Amber Champagne + Creme Quarter Horse
Year of Birth
Suitability
Genetic Information
Riding Experience
Breeding Status
2006
Roping, ranch, broodmare
Amber champagne + cream gene, Ee, Aa, N/Cr.
Negative for HERDA, PSSM1, GBED
30 days in March, 2009. Green.
Click here to see our yearly foal pages.
A new window will open.
2006 Amber Cream Champagne AQHA mare (amber champagne plus a cream gene).

14.3 hh

Ee Aa dd NCr NCh

Tested NEGATIVE for HERDA, GBED, and PSSM1 (not a carrier of any of those defects). Click here to view her test results from Animal Genetics, Inc.

Mae is a TANK, with great bone to support her.

Very sweet disposition, not an alpha mare in the pasture.
Sire: Awesome Cougarand
3729768 1998 gold champagne stallion
SIRE side of pedigree
Mr San Peppy 1968
0548845 sorrel
H- 0.0 P- 161.0 Hall of Fame, NCHA and AQHA, NCHA World Champion, '76 O AQHA, '74 & '76 O NCHA NCHA Finals, '72 1st O Non-Pro; '73 3rd O Finals; '76 2nd O Finals NCHA Derby, '72 1st O Derby Top Ten World Show, '73 5th NCHA O; '77 4th NCHA O Superior Performance, '75 O CUT AQHA High Point Performance Horse, '76 O CUT; '76 2nd O CUT ROM Performance NCHA COA Bronze, Silver, Gold Hall of Fame Offspring, Peppy San Badger (NCHA), Tenino San (NCHA) World Champion Offspring
Leo San 1949
0020113 sorrel
H- 0.0 P- 1.0 Stallion Show Record: NCHA money-earner. Performance Point Earner. NCHA Earnings: $740; Stallion Offspring Record: Hall of Fame Offspring, NCHA & AQHA. World Champion Offspring. Superior Performance Offspring. ROM Performance Offspring. Race ROM Offspring. NCHA Money-earners, $209,153.21.
Peppy San Badger 1974 1089924 sorrel Hall of Fame, AQHA H- 0.0 P- 41.0 NCHA earnings $172,711. 1st place 1981 NCHA finals. 1st place NCHA Cutting Derby. 1st place NCHA Cutting Horse Futurity. Producer of 6131 AQHA pts, 155 ROMs, 8 World Championships, 13 Reserve WC's.
Peppy Belle 1955
0054365 sorrel Mare Offspring Record: Hall of Fame Offspring, AQHA & NCHA. World Champion Offspring. Superior Performance Offspring. ROM Performance Offspring. NCHA Money-earners.
Sugar Badger 1959
0183512 sorrel
Grey Badger III 1947
0020285 gray
75 4 0 1 1 $ 0
Cougarand 1986
2643282 palomino
NCHA Certificate of Ability. 1996 NCHA Area 9 $3,000 Novice Horse Champion. 1996 NTCHA $3,000 Novice Horse Champion. 1996 NTCHA High-Point Horse
Sugar Townley 1943
0180712 sorrel
Doc Bar 1956
0076136 chestnut
75 4 0 0 1 $ 95 H- 36.0 P- 0.0 Hall of Fame, AQHA 1993 Inductee AQHA 1993 inductee, Total Points Earned: 36; Halter Points: 36; SI: 75; Race: $95; Stallion Offspring Record, World Champion Offspring, WP, CUT, WCH, HUS, Reserve World Champion Offspring, CUT, Top Ten World Show Offspring, Superior Halter Offspring, AQHA High Point Halter Offspring, CUT, Superior Performance Offspring, AQHA Champion Offspring, ROM Halter Offspring. ROM Performance Offspring, Performance Point Earners, Hall of Fame Offspring, NCHA & AQHA Offspring earned $1,178,484. in cutting.
Lightning Bar 1951
0037566 sorrel
95 10 4 3 1 $ 1,491 H- 18.0 P- 0.0
Doc's Yellow Rose 1972 0887378 palomino NCHA money earner, NCHA COA. Dam of NCHA $ earners
Dandy Doll 1948
0026556 chestnut
85 21 5 2 3 $ 876 H- 0.0 P- 1.5
Sandy Rock 1959
0115180 dun
Brown Rock 1952
0045726 brown
Gracie Buck 1946
0037264 dun

DAM side of pedigree
Doc O'Lena 1967
0493297 bay
H- 0.0 P- 2.0 Hall of Fame, '97 AQHA Inductee. NCHA money-earner, COA. Performance Point Earner. Total Points Earned: 2; Perf Points: 2; Perf Events: CUT; NCHA Earnings: $21,992; NCHA Hall of Famer Buster Welch has said, "Shorty did with Doc O'Lena in cutting what the guy did for running who broke the four-minute mile. He opened the door." Stallion Offspring Record, Hall of Fame Offspring, NCHA, World Champion Offspring, Reserve World Champion Offspring, NRHA Money-earners, NCHA Money-earners, Working Cow Horse Money-earners,NRCHA Money-earners
Doc Bar 1956
0076136 chestnut
75 4 0 0 1 $ 95 H- 36.0 P- 0.0 Hall of Fame, AQHA 1993 Inductee AQHA 1993 inductee, Total Points Earned: 36; Halter Points: 36; SI: 75; Race: $95; Stallion Offspring Record, World Champion Offspring, WP, CUT, WCH, HUS, Reserve World Champion Offspring, CUT, Top Ten World Show Offspring, Superior Halter Offspring, AQHA High Point Halter Offspring, CUT, Superior Performance Offspring, AQHA Champion Offspring, ROM Halter Offspring. ROM Performance Offspring, Performance Point Earners, Hall of Fame Offspring, NCHA & AQHA Offspring earned $1,178,484. in cutting.
Dallas by Six 1977
1300483 sorrel
Poco Lena 1949
0030475 bay
H- 174.0 P- 671.0 Hall of Fame, AQHA & NCHA Top Ten World Show, '53 4th NCHA World Champion; '54 2nd NCHA World Champion; '55 2nd NCHA World Champion; '56 4th NCHA World Champion; '57 5th NCHA World Champion; '58 5th NCHA World Champion; '59 2nd NCHA World Champion; '60 2nd NCHA World Champion; Hall of Fame Offspring, AQHA & NCHA NCHA LTE: $107,140
Dean's Tackatoo 1972
0819185 sorrel
Sugar Bars 1951
0042606 sorrel
95 30 7 4 7 $ 3,166 H- 2.0 P- 0.0 Stallion Show Record:. Hall of Fame, '94 AQHA Inductee. ROM Performance, '53 RC. Race money-earner, $3,166. SI: 95; AAA: Stallion Offspring Record: World Champion Offspring. Reserve World Champion Offspring. Superior Halter Offspring. Superior Performance Offspring. AQHA Champion Offspring.
Chica Dallas 1987
2656344 sorrel
Tackatoo 1958
0122148 sorrel
H- 0.0 P- 15.5
El Pobre 1968
0628700 chestnut
H- 0.0 P- 16.0 Bred by the King Ranch. Stallion Show Record: ROM Performance, '76 O. NCHA money-earner, COA. Performance Point Earner. Total Points Earned: 6; Perf Points: 16; NCHA Earnings: $1,443; Stallion Offspring Record: ROM Performance Offspring. Performance Point Earners
Mendigo 1960
0143772 chestnut
Zorra Pobre 1977
1285506 sorrel
Anita Chica 1956
0076322 bay
H- 199.0 P- 0.0
Zorra Chica 1968
0617286 bay NCHA Money-earners. Equi-Stat Cutting Offspring LTE: $279,038.
Otoe 1960
0128989 sorrel 95 13 5 2 3 $ 4,595 H- 76.0 Stallion Show Record: Superior Halter. AQHA Champion. NCHA money-earner. Race money-earner. Stallion Offspring Record: Supreme Champion Offspring. World Champion Offspring. Reserve World Champion Offspring. Superior Halter Offspring. Superior Performance Offspring. AQHA Champion Offspring. ROM Performance Offspring. Race ROM Offspring. NCHA Money-earners. Race Money-earners.
LA Zorra Mana 1957
0110720 bay

Dam: Maes Poco Bar
3695833 1996 buckskin mare
SIRE side of pedigree
Skipper Bar 1959
0166388 sorrel
H- 25.0 P- 20.0 AQHA Champion Offspring. ROM Performance Offspring. Halter Point Earners
Bar Mount 1956
0078560 sorrel
Skipper Tie Bar 1963
0264116 bay H- 0.0 P- 1.0
Skipper's Maid 1954
0048560 sorrel
Suits Me H 1949
0030084 brown
H- 69.0 P- 0.0
Pondie 1941
0001556 bay
Poco Skip Jared 1987 2604580 buckskin

Patsy Bay 1943
0012314 bay
Poco Rip Cash Jr 1964 0308588 dun
Poco Rip Cash 1961
0175859 dun H- 7.0 P- 0.0
Bunny Bee Poco 1969 0617954 buckskin
Per Cent 1960
0133992 brown
Bunny Blackburn 1964 0304579 dun
Rey Del Blakburn 1959
0102655 dun
Bunny Check 1946
0017305 gray

DAM side of pedigree
Chick Check 1974
1003871 sorrel
96 19 3 4 3 $ 1,393
Easy Jet 1967
0573195 sorrel
100 38 27 7 2 $ 445,723
Sweet Double Check 1979 1534990 sorrel
70 10 1 2 1 $ 855 H- 0.0 P- 1.0
Miss Frosty Chic 1967
0513635 sorrel
Sweet Little Anne 1973 0991734 sorrel
86 8 2 0 3 $ 488
Double Thistle 1962
0198391 bay H- 174.0 P- 18.0
Checklittlesunshine 1984 2131788 palomino
Sweet Anna 1969
0594311 sorrel
Pokey Bee Leo 1975
1113972 palomino
Mighty Bee Red 1968
0584314 roan
Miss Pokeys Return 1978 1434962 palomino
Leo's Tammie Lou 1967
0528723 palomino
Go Bar Return 1974
1082820 grullo
Mr Go Bar 1968
0699408 sorrel 90 39 2 1 4 $ 2,278 H- 1.0 P- 0.0
Miss Cats Return 1964
0373773 dun
This page last updated 09/26/12