2008 Black Filly
Peponita Kittie
Check the Sale page for pricing. Click here to inquire.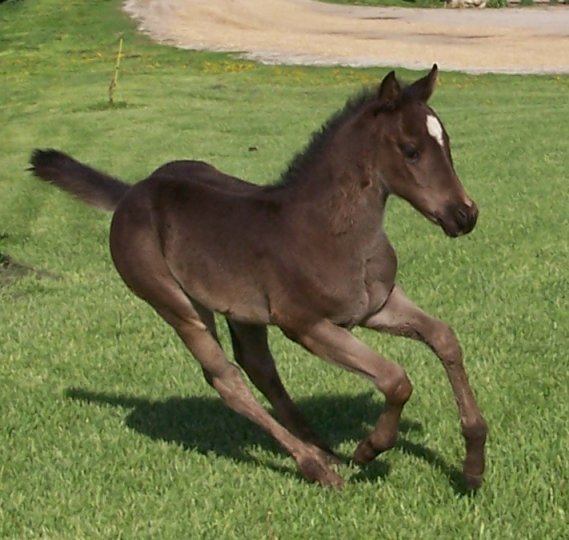 September 24, 2008 (above). Kittie has been weaned for about 3 weeks, and has lost some of her bloom.
This past week, she leveled off and appears to be gaining weight again. In another month, she'll look great once again.
She has also taken some bites from the mare she is living with, so has some scuffs on her coat.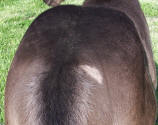 Kittie was born with this roan patch beside her tail.
The above photos were taken a few hours after birth.
Now, her head is looking much better since she's been out of the birth canal for a while, and she's standing correctly on her legs since stretching out. New photos coming this week.
| | |
| --- | --- |
| | Black filly, born April 6, 2008. |
| | Star, no other white other than roan patch (with black skin under it) beside her tail. |
| | Pretty little head, correct legs. |
| | She could be an excellent roping or speed event prospect! Her dam has speed, and her sire's sire was reportedly extremely fast. |
| | 50% chance of being homozygous for black. |
| | Visit our Sale page for pricing information within a couple weeks of her birth. |
Abbreviated Pedigree
2008 black or blue roan filly

Crowheart WYO Boy
grullo Roan

Wyo O Blue Dun Roan, 34% Blue Valentine
WYO Blue Bonnet blue roan, by Leo Hancock Hayes
Bonnie O Blue, roan, gdtr of Blue Valentine
Chucker Blue Maid, homozygous black
Plenty Try blue roan, by Blue Valentine
Chucker Maid, grullo

Daltons Queen Chic, black

Peppys Dandy Star, black Sire of AQHA pts
Peponita, NCHA Hall of Fame, World Champion NCHA
Friendly Doll, AQHA pt earner
Chicks Wonder, black, Race $ earner
Dee Bar Chick, Race ROM
Tri Wonder, Race $ earner
Extended Pedigree:


Crowheart WYO Boy
2004 Grullo Roan
Crowheart Wyo Boy

4587431 2004 grullo stallion

29.69% Blue Valentine

SIRE side of pedigree
Leo Hancock Hayes 1980 1683157 blue roan
Blue Valentine 1956
0097116 roan
H- 0.0 P- 1.0
Wyo Blue Bonnet 1992 3135976 grullo
Doll 01 1970 by Rip Rip by Leo
0717186 sorrel
Mandys Sue Hawk 1981
1763699 buckskin
Wyo Kid Curry 1976 by Rip Rip by Leo, g-son BV 1281044 dun

Wyo O Blue 1998 3740633 "Wyatt" Dun roan.
34.38% Blue Valentine

Blue Hawk 22 1972 by Plenty Coup, g-son of Joe Hancock
0841841 dun
Plenty Try 1982
1894414 blue roan
Gooseberry 1973 by Blue Valentine 0968815 red roan
Bonnie O Blue 1991
3036467 red roan
Heather Dividend 1974
1052111 brown
42 3 0 0 0 $ 0 Super Barrel Mare!
Bonny 02 1970
0723400 blue roan
Blue Valentine 1956
0097116 roan
H- 0.0 P- 1.0
Bonnie Owens 11 1956
0061706 bay

DAM side of pedigree
Gooseberry 1973
0968815 red roan
Blue Valentine 1956
0097116 roan
H- 0.0 P- 1.0
Plenty Try 1982
1894414 blue roan
Fox Hastings 1965 by Plenty Coup, g-son of Joe Hancock 0376183 chestnut
Heather Dividend 1974
1052111 brown
42 3 0 0 0 $ 0 Super Barrel Mare!
Jets Sabre 1970
0710869 bay

Chucker Blue Maid 1998
3740635 black
Homozygous for black
25% Blue Valentine

Heather Heller 1968
0564976 bay
Gooseberry 1973
0968815 red roan
Blue Valentine 1956
0097116 roan
H- 0.0 P- 1.0
Chucker Maid 1983
2077119 grullo
Fox Hastings 1965 by Plenty Coup, g-son of Joe Hancock 0376183 chestnut
Chuckkar Maid 45 1969
0685855 dun
Mandy's Dart 1957
0115141 dun
H- 0.0 P- 1.0
Chukkar Maid 1957
0106911 grullo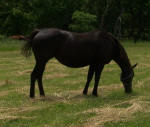 Peppy San 1959
0114978 sorrel H- 26.0 P- 180.0 Hall of Fame, NCHA & AQHA, World Champion, '67 NCHA O, Superior Performance, '65 O CUT, AQHA High Point Performance Horse, '67 CUT Stallion; '67 3rd HI.Pt. CUT horse, AQHA Champion, '63 O, ROM Performance, '62 O, NCHA money-earner ($49,478), COA Bronze Silver, Halter Point Earner, Hall of Fame Offspring, NCHA & AQHA, World Champion Offspring: Reserve World Champion Offspring, Top Ten World Show Offspring
Leo San 1949 0020113 sorrel H- 0.0 P- 1.0 NCHA $ earner, Hall of Fame Offspring, NCHA & AQHA, World Champion Offspring, Superior Performance Offspring, ROM Performance Offspring, Race ROM Offspring, NCHA Money-earners,, $209,153.21, Race Money-earners, Halter Point Earners, Performance Point Earners
Peponita 1969
0605028 black
H- 0.0 P- 74.0 Hall of Fame, NCHA, World Champion, '77 NCHA O; '77 O Sr CUT; '78 O Sr CUT; '79 NCHA O, NCHA Finals, '76 1st O Finals; '77 1st O Finals; '79 1st Non-Pro Finals, Top Ten World Show, '75 4th NCHA O World Show; '76 3rd O Sr CUT; Superior Performance, '78 O CUT, ROM Performance, '73 O, NCHA money-earner, COA Bronze, Silver, Gold, Platinum, World Champion. Points in Cutting and Western Pleasure (15). Offspring: Reserve World Champion Offspring, Superior Performance Offspring, ROM Performance Offspring
Peppy Belle 1955
0054365 sorrel Hall of Fame Offspring, AQHA & NCHA World Champion Offspring, Superior Performance Offspring, ROM Performance Offspring, NCHA Money-earners, Halter Point Earners
Bonita Tivio 1955
0065940 bay H- 8.0 P- 48.0 NCHA COA, Hall of Fame Offspring, NCHA, World Champion Offspring, AQHA & NCHA, NCHA Finals Offspring, 1st, Superior Performance Offspring, ROM Performance Offspring, NCHA Money-earners
Poco Tivio 1947
0017396 bay H- 12.0 P- 19.0 Top Ten World Show, '51 5th NCHA O; '52 5th NCHA O, AQHA Champion, '52, ROM Performance, '51, NCHA money-earner, COA Bronze, Superior Performance Offspring, ROM Performance Offspring, NCHA Money-earners
Peppys Dandy Star 1986 2484985 black, own son of Peponita
Pepper Girl 1944
0005030 chestnut
My Dandy Bob 1960 0227031 sorrel 95 13 1 3 2 $ 1,492 H- 31.0 P- 1.0 (Race Pt (5), Halter Pt (31), Western Pleasure Pt earner, Grand (11), Reserve (10), Race ROM)
Bar Bob 1953
0056698 chestnut
95 71 12 8 16 $ 11,143 H- 32.0 P- 5.0 AQHA Champion, '59 O, ROM Performance, '55 Race; '59 O, Race money-earner
Friendly Doll 1969 0707711 sorrel H- 2.0 Halter Point Earner.
Dandy Doll 1948
0026556 chestnut
85 21 5 2 3 $ 876 H- 0.0 P- 1.5 Hall of Fame Offspring, AQHA, Superior Halter Offspring
AQHA High Point Halter Offspring, AQHA Champion Offspring, ROM Performance Offspring, Race ROM Offspring, Race Money-earners, Performance Point Earners
Friendly Buff 1963
0294821 chestnut. Dam of AQHA point earner(s)
Star Buff 1959
0186935 bay
85 12 3 0 3 $ 2,198 H- 2.0 P- 1.0
Doll's Cookie 1958 0109925 sorrel
Three Chicks 1959
0150624 brown 100 10 3 2 1 $ 22,624 H- 23.0 P- 2.0 AQHA Champion, '66 O, ROM Performance, '61 Race, Grand (5), Halter Pt (23), Western Pleasure Pt (2), AQHA Ch, Race ROM). World Champion Offspring, Race, Reserve World Champion Offspring, Arena, Superior Halter Offspring, Superior Performance Offspring, Race & Arena, AQHA Champion Offspring, Race ROM Offspring, NCHA Money-earners
Three Bars (TB) 1940 T0065983 chestnut AQHA Hall of Fame, Hall of Fame Offspring, AQHA & NSBA, Supreme Champion Offspring, World Champion Offspring, Race, Superior Halter Offspring, Superior Performance Offspring, Race, AQHA Champion Offspring, ROM Performance Offspring
Dee Bar Chick 1968
0557567 black 96 19 8 6 4 $ 6,512 Race money earner Race Pt (26) earner, Race ROM)
Chicado V 1950
0029689 brown
100 6 3 1 1 $ 5,215 World Champion, '52 2-Yr-Old Race Filly, ROM Performance, RC, Race money-earner, World Champion Offspring, Race, AQHA Champion Offspring, ROM Performance Offspring, Race ROM Offspring, Race Money-earners, Halter Point, Earners
Miss Diamond Dee 1961 0243739 sorrel 95 12 8 1 1 $ 3,251 ROM Performance, RC, Race money-earner
Diamond 2 Bar 1955
0069525 chestnut
95 36 5 7 9 $ 15,020 ROM Performance, '57 Race, Race money-earner
Chicks Wonder 1977
1294307 black 70 8 0 0 0 Race money earner
Twinkle Miss 1952
0046213 sorrel
H- 4.0 P- 0.0
Mr Wonder Man 1962
0216651 sorrel 100 14 4 6 2 $ 4,873 New Track Record Setter, Race ROM
Go Man Go 1953
0082000 roan
100 47 27 9 3 $ 86,151 Hall of Fame, '90 AQHA Inductee, World Champion, '55 RC; '56 RC; '58 RC + numerous other World Championships, Superior Performance, '57 RC, Race money-earner, '57 High Money Earning Horse World Champion Offspring, Race, Superior Halter Offspring, Superior Performance Offspring, Race and Arena, AQHA Champion Offspring, ROM Performance Offspring
Tri Wonder 1972
0878359 bay 77 5 0 3 0 $ 60
Race money earner
Charming Lady 1951 0051527 sorrel
85 26 1 4 3 $ 1,961
Leo Joe's Jackie 1960
0175451 bay 75 3 0 0 1 $ 51
Race money earner.
Leo Joe 1951
0030833 bay
75 30 3 3 2 $ 1,718 ROM Performance, '54 Race, Race money-earner
Freddy Jack 1946
0033750 dun