2006 Black Colt
Click here to inquire about "Captain."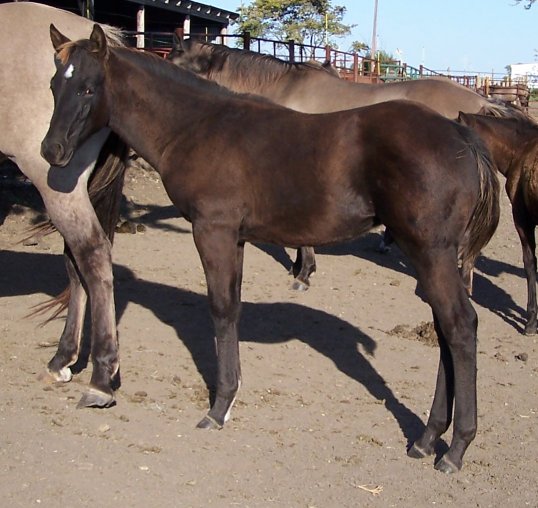 A nice big colt with beautiful color...black, and possibly homozygous for black. We don't normally test for colors, as color is secondary to conformation and disposition. But this colt is the whole picture, and we think is a stallion prospect for someone that is interested in using him for show and for breeding. If he is homozygous for black, that will just be some icing on the cake!

| | |
| --- | --- |
| | Born 5/27/2006 |
| | Small star, one white foot. |
| | GORGEOUS head that is wide between the eyes and short. |
| | He was born big and strong, and looks like he'll go over 15 hh somewhere. |
| | Twelve of the fourteen horses on his papers are point earners, money earners, and/or producers, including two Hall of Fame horses! |
| | Visit our Sale page for pricing information. |
Click these thumbnail images one time to see the pictures full-sized.
Pedigree

4285699 2002 black stallion

SIRE side of pedigree
Dell Milagro 1970
0741617 bay
H- 43.0 P- 5.0
Sire of 1212 AQHA pts
Poco Dell 1950
0033075 bay
H- 35.0 P- 15.0
Kaliman 1975
1113635 bay
H- 50.0 P- 34.0
Top 10 World Show, ROM Performance, Superior Halter, NRHA $ earner
Melon Bars First 1966
0437978 bay
Quo Vadis 1952
0045186 black
H- 40.0 P- 29.0
AQHA Hall of Fame
Little Lloyd 1944
0006030 black


Serenas High Kaliber 1993
3238548 black
P- 26.0 Reining, ROM, (with limited showing)
NRHA money earner
Sire of earners in reining, roping, and barrel racing associations (including .5 AQHA pts)
Web Site

Miss Circle H III 1943
0003083 bay
Peppy Show 1978
1409205 sorrel
Mr San Peppy 1968
0548845 sorrel
H- 0.0 P- 161.0
Shows Super Serena 1983 2020325 black
Dam of NRHA Money Earner(s), AQHA reining point earner(s)
Noche Serena 1965
0503307 chestnut
Cornwell Mare 772 1972
1065285 black
Super Blue 1961
0167293 black
Lynn's Luck 1962
0245802 sorrel

DAM side of pedigree
Jewel's Leo Bars 1962
0206037 sorrel
55 2 0 1 0 $ 30 H- 3.0 P- 25.0
Sugar Bars 1951
0042606 sorrel
95 30 7 4 7 $ 3,166 H- 2.0

Colonel Freckles 1973
0911585 sorrel
H- 0.0 P- 3.0
AQHA Hall of Fame

Leo Pan 1950
0093210 sorrel
Christy Jay 1967
0473601 sorrel
H- 3.0 P- 2.0
Rey Jay 1955
0063166 sorrel
H- 12.0 P- 261.5
Paulette My Pet 1986
2496601 sorrel
NRCHA money earner
Producer of NRHA money earnings and AQHA points.
Christy Carol 1959
0170656 sorrel
P- 9.0
Doc's Dee Bar 1963
0284177 sorrel
H- 170.0 P- 273.0
Doc Bar 1956
0076136 chestnut
75 4 0 0 1 $ 95 H- 36.0
AQHA Hall of Fame
Paula Dee Bar 1976
1237373 sorrel
H- 18.0
Lura Tivio 1960
0142290 sorrel
H- 7.0
Buffy Jo 1968
0580247 bay
Ricky Taylor 1954
0069475 chestnut
95 15 5 4 3 $ 5,437 H- 15.0
Decka Jo 1958
0124501 bay


Line bred Peppy San/Leo Grulla Mare
96.8% NFQHA
SIRE side of pedigree
Peppy Sun Deck 1975
1105602 bay
H- 0.0 P- 1.0 NCHA $ earner, sire of NCHA $ earners
Peppy San 1959
0114978 sorrel
H- 26.0 P- 180.0 NCHA World Champion, NCHA and AQHA Hall of Fame
Peppys Top Deck 1989
2892055 grullo
Upper Deck Lady 1969
0615669 bay
66 5 0 0 1 $ 81 Race $ earner, dam of Cutting $ earners
LA Plata Sunlight 1976
1183265 red dun
Jessie Blackburn 1969
0679703 bay Sire of Perf. ROM, Cutting $ earnings
Peppy Plan 1992
3131062 grullo 2 y/o Colorado State Fair Halter Champion
Sire of IBHA Top 10 World Reiner, Dun Factor ROM earner, Colorado State Fair Reining Champion--Open and Amateur
Lady Dun Cash 1967
0520544 dun
Poco Smokey too 1980
1662804 dun Sire of Performance Pt earners
Poco Plan 1964
0318815 dun
Expensive Ginger 1987
2622583 buckskin
Lous Flame 1976
1202326 bay
Expensive Style 1970
0780385 black
Paceron's Aledo 1960
0197586 brown
95 30 4 0 8 $ 2,039
Expensive Lady 1958
0187594 sorrel

DAM side of pedigree
Peppy San 1959
0114978 sorrel
H- 26.0 P- 180.0
Leo San 1949
0020113 sorrel
H- 0.0 P- 1.0 NCHA and AQHA Hall of Fame, sire of AQHA Champions
Peppy Sun Deck 1975
1105602 bay
H- 0.0 P- 1.0
NCHA COA. Sire of NCHA earner of over $7500.00.
Peppy Belle 1955
0054365 sorrel Dam of World Champion, Cutting $ earners, Halter and Perf. point earners
Upper Deck Lady 1969
0615669 bay
66 5 0 0 1 $ 81 Race $ earner, dam of Cutting $ earners
Upper Deck 1964
0426076 brown
95 30 4 0 4 $ 3,404 Race ROM, sire of Performance ROM
Peppy Sunrise 1991
3008462 black Dam of IBHA Top 10 World Reiner, Dun Factor ROM earner, Colorado State Fair Reining Champion--Open and Amateur
Adams' Bay Lady 1963
0245759 bay
75 15 3 1 0 $ 365 Race $ earner
Mr Sir Pep 1962
0213269 sorrel Sire of World Champion, Sire of Cutting and Race money earners
Thirsty 1952
0035573 sorrel
75 6 0 1 3 $ 250
Miss Thirsty Pep 1979
1551348 bay
Little Lou Pep 1952
0044265 sorrel
MS Stylish Pep 1975
1128440 bay
Mr Sir Pep 1962
0213269 sorrel Sire of World Champion, Sire of Cutting and Race money earners
Susie Q Hudson 1970
0753416 sorrel
Peppy Margarita's pedigree includes:

AQHA Hall Of Fame: Joe Reed, Joe Reed II, King, Peter McCue, Poco Bueno, Leo, Peppy San, Oklahoma Star, Top Deck (TB), Old Sorrel, Traveler, Joe Hancock
AQHA / NCHA Hall Of Fame Sires: Leo San, Zantanon, John Wilkins, Hickory Bill, Dan Tucker, Solis, Dennis Reed, Joe Blair, Equestrian, Three Stars
King Ranch & Weiscamp Bred, & other Legends: Peppy, Spot Cash, Skipper W, Nick Shoemaker, Yellow Jacket, Old Fred, San Siemon, Plaudit, Little Joe, Nick, Sheik, Cash Customer, Bert, Cowboy, Reed McCue, Flying Bob, Macanudo, Lock's Rondo, Thirsty, Jessie James, Harmon Baker, Little Richard, Gold Digger, Ranchero, Texas Chief, Skipper's Smoke