2006 Red Roan Colt
Click here to inquire about "Pepper."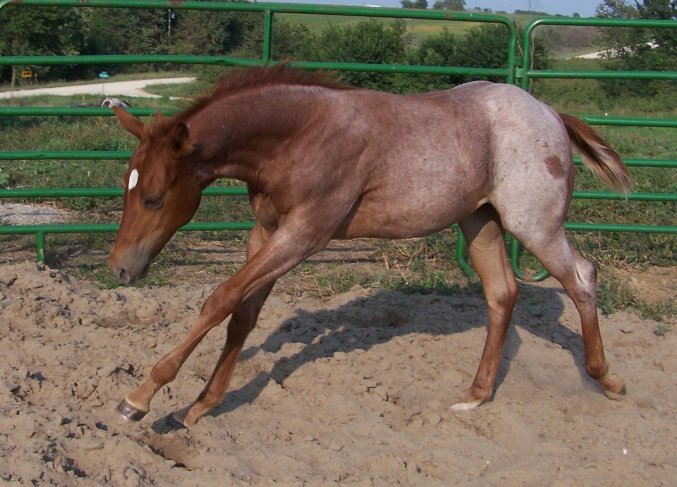 A nice big colt that will be red roan (he has white hairs on his flanks and hip already)...and siblings to offer evidence of just how nice he'll be. Although, this colt is bigger and even have a prettier head than either of his earlier siblings! They were positively gorgeous, but he might even be a bit better.

| | |
| --- | --- |
| | Born 6/6/2006 |
| | Small star, one white foot. |
| | GORGEOUS head that is wide between the eyes and short. His sire is sure stamping these babies with cute little heads! If you are in Colorado, you REALLY need to check out Hero. He is being offered at stud to outside mares, and he's worth the trip! |
| | I think it looks like he'll have a really long hip, and definitely good bone. At the time of writing this, he was only 3 hours old, but he already appears to be in good shape there. |
| | He was born big and strong, and looks like he'll go over 15 hh somewhere. His dam is 15.2 hh, and his sire is 15 hh. I believe this colt will be 15.1 to 15.2 because he's so big already. |
| | Visit our Sale page for pricing information. |

Dakota's first two foals (older sisters to this colt).





Both sold to Florida.

Pedigree
Colonels Superman, Black
Serenas High Kaliber, NRHA and AQHA reining $ and pts
Kaliman, AQHA World Show Top 10
Del Milagro, AQHA pt earner and producer
Quo Vadis, AQHA Hall of Fame
Shows Super Serena, Producer NRHA $ and AQHA Pts
Peppy Show, by Mr San Peppy
Cornwell Mare
Paulette My Pet, NRCHA $ earner
Colonel Freckles, Hall of Fame cutter
Jewels Leo Bars, pt earner
Christy Jay, pt earner
Paula Dee Bar, AQHA pt earner
Docs Dee Bar, 443 AQHA points!
Buffy Jo
Silver Cake Bar, Blue Roan
How D Silver Man
Tee Jay Super Jack, World Champion Offspring
Jackie Bee, World Champion Offspring
Roney's Babe
Pam Montleon
Montleon AQHA Champion
Sweet Candy Cane
Blue Cake Bar
Roan Bar Dandy
Roan Bar Go
Belle Dandy
Cake and Cream
Barts Blue Boy Too
Kristi Cake

4285699 2002 black stallion

SIRE side of pedigree
Dell Milagro 1970
0741617 bay
H- 43.0 P- 5.0
Sire of 1212 AQHA pts
Poco Dell 1950
0033075 bay
H- 35.0 P- 15.0
Kaliman 1975
1113635 bay
H- 50.0 P- 34.0
Top 10 World Show, ROM Performance, Superior Halter, NRHA $ earner
Melon Bars First 1966
0437978 bay
Quo Vadis 1952
0045186 black
H- 40.0 P- 29.0
AQHA Hall of Fame
Little Lloyd 1944
0006030 black


Serenas High Kaliber 1993
3238548 black
P- 26.0 Reining, ROM, (with limited showing)
NRHA money earner
Sire of earners in reining, roping, and barrel racing associations (including .5 AQHA pts)
Web Site

Miss Circle H III 1943
0003083 bay
Peppy Show 1978
1409205 sorrel
Mr San Peppy 1968
0548845 sorrel
H- 0.0 P- 161.0
Shows Super Serena 1983 2020325 black
Dam of NRHA Money Earner(s), AQHA reining point earner(s)
Noche Serena 1965
0503307 chestnut
Cornwell Mare 772 1972
1065285 black
Super Blue 1961
0167293 black
Lynn's Luck 1962
0245802 sorrel

DAM side of pedigree
Jewel's Leo Bars 1962
0206037 sorrel
55 2 0 1 0 $ 30 H- 3.0 P- 25.0
Sugar Bars 1951
0042606 sorrel
95 30 7 4 7 $ 3,166 H- 2.0

Colonel Freckles 1973
0911585 sorrel
H- 0.0 P- 3.0
AQHA Hall of Fame

Leo Pan 1950
0093210 sorrel
Christy Jay 1967
0473601 sorrel
H- 3.0 P- 2.0
Rey Jay 1955
0063166 sorrel
H- 12.0 P- 261.5
Paulette My Pet 1986
2496601 sorrel
NRCHA money earner
Producer of NRHA money earnings and AQHA points.
Christy Carol 1959
0170656 sorrel
P- 9.0
Doc's Dee Bar 1963
0284177 sorrel
H- 170.0 P- 273.0
Doc Bar 1956
0076136 chestnut
75 4 0 0 1 $ 95 H- 36.0
AQHA Hall of Fame
Paula Dee Bar 1976
1237373 sorrel
H- 18.0
Lura Tivio 1960
0142290 sorrel
H- 7.0
Buffy Jo 1968
0580247 bay
Ricky Taylor 1954
0069475 chestnut
95 15 5 4 3 $ 5,437 H- 15.0
Decka Jo 1958
0124501 bay

SIRE side of pedigree
Jackie Bee 1962 gray
Stallion Offspring Record: World Champion Offspring. Reserve World Champion Offspring. Superior Halter Offspring. Superior Performance Offspring. AQHA Champion Offspring. ROM Performance Offspring. Halter Point EarnersPerformance Point Earners. AQHA Offspring Record. Total Points Earned: 7,879.5; Reg Foals: 1,009; Number Shown: 268; Point Earners: 197; AQHA IF: $579; Halter Points Earned: 3,913.5; Halter Point Earners: 168; Superior Halter Awards: 12; Performance Points Earned: 3,966; Performance Point Earners: 222; Performance ROMS: 91; Superior Performance Awards: 8; AQHA Champions: 16; Total Superior Awards: 20; Total ROM's: 91; World Championships: 3; Res World Championships: 4; High Point Wins: 3; Sire of Tee Jay Roman.
Jimmy Mac Bee 1958
0092825 dun
H- 1.0 P- 0.0 Stallion Offspring Record: Reserve World Champion Offspring. Superior Halter Offspring. Superior Performance Offspring. AQHA Champion Offspring. ROM Performance Offspring. Halter Point Earners. Performance Point Earners. AQHA Offspring Record. Total Points Earned: 2,932; Reg Foals: 347; Number Shown: 80; Point Earners: 55; Halter Points Earned: 1,079; Halter Point Earners: 49; Superior Halter Awards: 4; Performance Points Earned: 1,853; Performance Point Earners: 57; Performance ROMS: 29; Superior Performance Awards: 10; AQHA Champions: 12; Total Superior Awards: 14; Total ROM's: 29; Res World Championships: 1;
Tee Jay Super Jack 1974 0998246 gray
H- 2.0 P- 0.0 World Champion Offspring. Reserve World Champion Offspring. Superior Performance Offspring. AQHA High Point Performance Offspring. AQHA Champion Offspring. Quarter Horse Congress Get Winners
ROM Halter Offspring. ROM Performance Offspring. NRHA Money-earners. AQHA Offspring Record: Total Points Earned: 1,987.5; Reg Foals: 147; Number Shown: 36; Point Earners: 23; Halter Points Earned: 199; Performance Points Earned: 1,788.5; Performance ROMS: 13; Superior Performance Awards: 10; AQHA Champions: 2; Total ROM's: 14; World Championships: 3; Res World Championships: 2; NRHA Offspr LTE: $24,954. NRHA Offspr Avg Earnings: $24,954
Outstanding Offspring: How D Amos, AQHYA World Champion Equitation Horse, Versatility Champion, How D Mae Bee, World Champion Jr. RN, Sr. RN; Res. World Champion AMT RN
Jackie Diane 1957
0121218 gray

Roney's Babe 1959
0100826 bay

Easter Money 1954
0083892 dun

How D Silver Man 1980
1581849 gray
Miss Amber 1941
0001388 bay
Montleon 1961
0194803 bay
H- 54.0 P- 13.5 Superior Halter, '66 O. AQHA Champion, '68 O. ROM Performance, '66 O. Stallion Offspring Record. Superior Halter Offspring. Superior Performance Offspring. AQHA Champion Offspring .ROM Performance Offspring. Race Money-earners. AQHA Offspring Record. Total Points Earned: 908.5; Halter Points Earned: 376; Superior Halter Awards: 3; Performance Points Earned: 532.5; Performance Point Earners: 32; Performance ROMS: 8; Superior Performance Awards: 1; AQHA Champions: 2; Total Superior Awards: 4; Total ROM's: 8;
Croton Oil 1955
0058971 sorrel
85 5 1 0 0 $ 770 ROM Performance, '58 Race. Race money-earner. SI: 85; Race: $770; Wins: 1; Stallion Offspring Record. Superior Halter Offspring. Superior Performance Offspring, Race & Arena. AQHA Champion Offspring. ROM Performance Offspring. Race ROM Offspring. Race Money-earners. AQHA Offspring Record. Total Points Earned: 2,737.5; Reg Foals: 373; Number Shown: 200; Point Earners: 72; Halter Points Earned: 1,915; Halter Point Earners: 70; Superior Halter Awards: 10; Performance Points Earned: 822.5; Performance Point Earners: 46; Performance ROMS: 30; Superior Performance Awards: 2; AQHA Champions: 16; Total Superior Awards: 12; Total ROM's: 30; High Point Wins: 1;Race Earnings: $100,269; Stakes Winners: 4; 90+ ROMS: 19; 100+ ROMS: 2; Race ROMS: 63; Superior Race: 2;
Pam Montleon 1972
0850290 bay
Monta Girl 1954
0047316 dun

Sweet Candy Cane 1961
0175233 bay
Ben Gib's Ace 1956 by Moores Ace
0057192 sorrel H- 15.0 P- 8.0
Hollywood Belle 1957
0091481 bay

DAM side of pedigree
Roan Bar Go 1978
1416653 gray
Fancy Roan Bar 1974
1044308 red roan Stallion Offspring Record. ROM Performance Offspring. Performance Point Earners. AQHA Offspring Record. Total Points Earned: 47; Reg Foals: 213; Number Shown: 7; Point Earners: 5; Performance Points Earned: 47; Performance Point Earners: 9; Performance ROMS: 2;
Roan Bar Dandy 1982
1947999 gray
Go Elsie Go 1968
0562006 gray
14 2 0 0 0 $ 0
Belle Dandy 1973
0983005 blue roan
Bell Boy Bar 1967
0674024 blue roan
Blue Cake Bar 1988
2789922 red roan
Tom's Roan Baker 1966
0421460 roan
Barts Blue Boy Too 1976
1266427 gray
Bart's Blue Boy 1968
0631570 gray
75 14 2 3 2 $ 311
Cake and Cream 1979
1545771 black
Pat Me Pat Star 1970
0696937 bay
Kristi Cake 1969
0652437 bay
Toad Kuper 1962
0224657 bay
Toad Cake 1964
0394149 brown